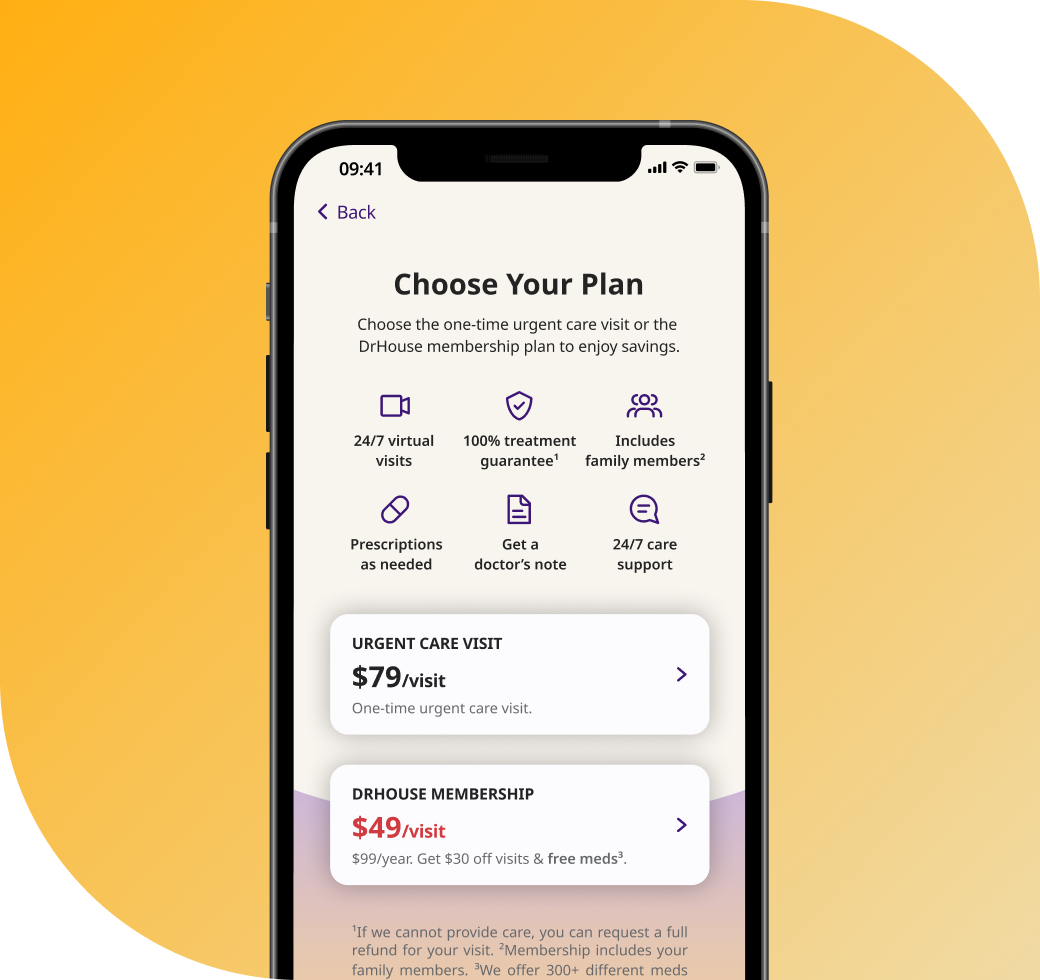 STEP 2
Choose your plan
Visits are $49 with membership and $79 without membership.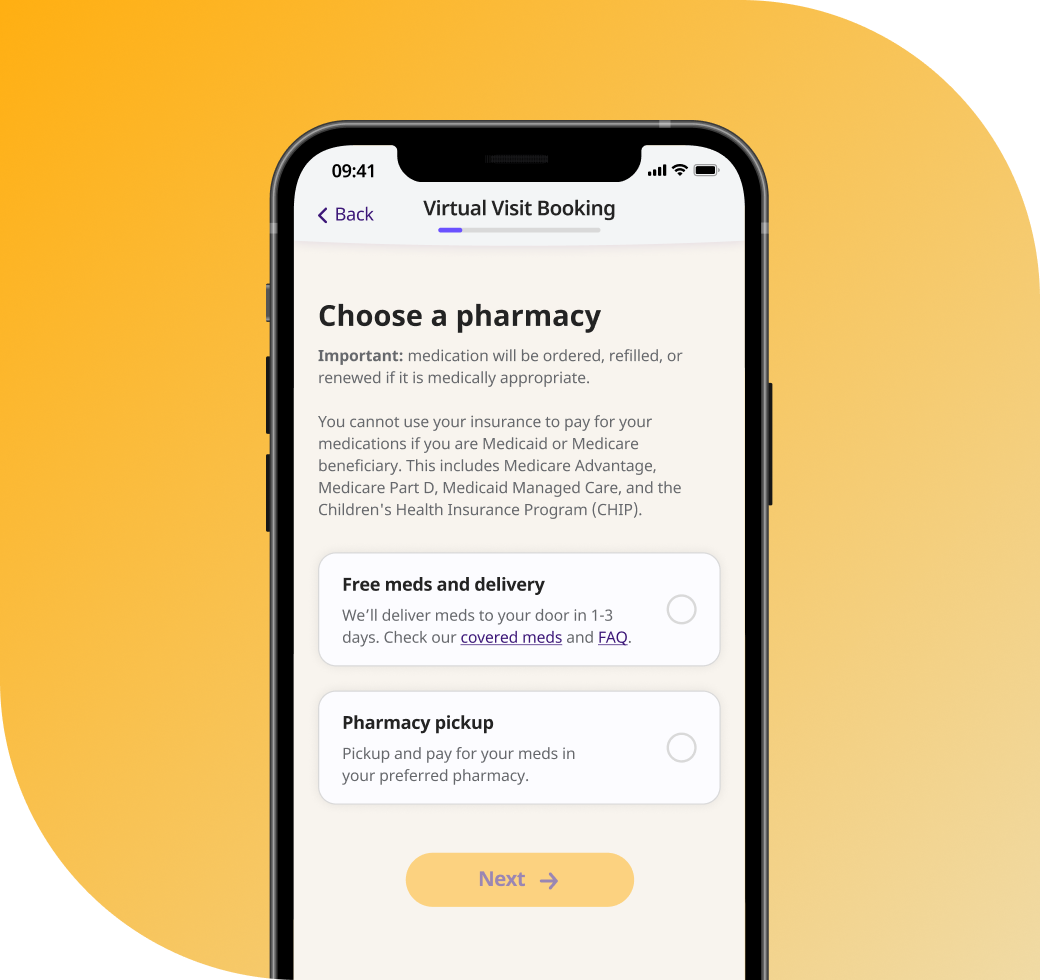 STEP 4
Get your prescription¹
Pick up an Rx from your preferred pharmacy or get it delivered to you.
¹Having a visit does not guarantee a medication will be ordered or refilled. It is clinicians' professional decision. DrHouse providers do not prescribe or refill controlled substances via virtual visits. ²Your provider may recommend follow-up care, including additional services that may not be included in visit price.
24/7 personal care
Consult with a clinician in 15 minutes, refill a Rx or chat with our care assistants.
Affordable & Convenient
See your cost upfront and get treatment for hundreds of different conditions.
No insurance needed
No insurance? No worries! Our board-certified clinicians are at your reach.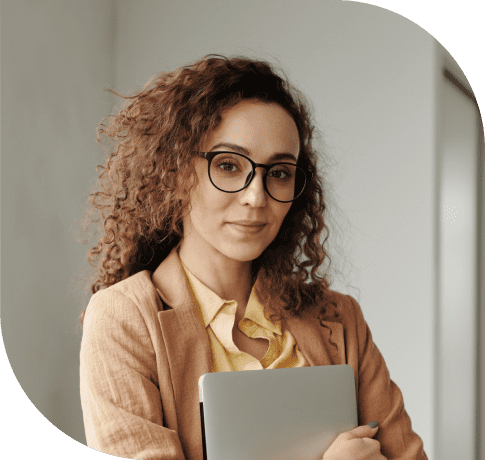 World-class care team
All of our clinicians are board-certified and trained in the top US medical schools.
Our providers are qualified to diagnose and treat wide variety of non-emergency conditions.
We approach patient care with the best clinical practices to provide personalized treatment.
Comprehensive care, where you are
Comprehensive care, where you are
See why people turn to DrHouse...
Lifesaver
I'm so grateful that I found this app. I know they have a launch special right now and all visits are free, but what an amazing...
Jessica E.
AMAZING!!
It was a great experience! I love you guys! It literally took me less than 5 minutes to speak with a doctor!
Emma D.
First time user
Doctor was very attentive and listened to what I told her. She gave me a treatment plan and called in a prescription for me.
Matt T.
Well coordinated!
It was a very positive experience! I got my Dr on the call in 2 minutes. I really like the service, fast and convenient!
Peter E.
Easy and effective
Excellent service. My doctor was a great listener. Thank you! I would recommend it to my friends!
Damon S.
Very pleased
The clinician knew exactly what to recommend for my illness. DrHouse has a very good care team!
James A.
Attentive care!
Doctor was very attentive and listened to what I told her. She gave me the diagnosis and called in a prescription for me.
Tom R.
Convenient
The Dr. was friendly, clear and detailed. I likely saved a couple of hours and never had to leave my work from home.
Ava E.
Top quality
I appreciate the doctor and the excellent care she provided me. I would recommend her and this service without hesitation.
Oliver E.
Frequently asked questions
How online doctors work?

Online doctors are perfect for non-emergency medical care services. DrHouse board certified clinicians treat and prescribe for most common medical issuses. Our clinicians are available 24/7/365 and you do not need to schedule an appointment to have a visit!

Is it legal to prescribe medication online?

Yes. DrHouse has built a telemedicine platform to enable our providers to practice medicine and take care of patients remotely. Every medical professinal you interact with is U.S. licensed to prescribe medicine and treat patients in your state.

Can I start a visit on my computer?

No, at this time DrHouse is only available through our mobile app. Download our app on the App Store or get it on Google Play.

What medications can DrHouse prescribe?

Our Clinicians have the ability to provide either a refill or initiation on most medications, outside of controlled substances. Here are some common medications that our clinicians have the ability to prescribe: Valtrex, Zoloft, Trazodone, Propranolol, Prozac, Acyclovir, Metformin, Tamsulosin, Amlodipine, Valsartan.

However, it is important to note that our clinicians will still defer to their best medical judgment during your visit, which may result in an outcome that is independent of prescribing any specific medications.

Where is your service available?

DrHouse medical service is available in all 50 states.

Who are your doctors?

DrHouse has a network of U.S.-based, board-certified clinicians who go through a strict training and credentialing program prior to being admitted to the DrHouse providers network. Our providers are graduates of top US medical schools and have an average of 15 years of experience in medicine. There are no exceptions. Our goal is to offer the best possible healthcare service for all.

How long do I have to wait to get treatment?

Up to 15 minutes during the day time (7am-9pm) and up to 30 minutes at the night time (9pm-7am). Our average wait time during the day time is 2 minutes and at night time 15 minutes.