Hosptial care is essential when looking after the patients who need it. However, with population growing faster than the number of staff and beds available per hospital, hosptial care has started to slip. The Covid-19 pandemic has also increased the concerns of peoples health, and therefore we see a rise in people needing hospital care.
Also due to the Covid-19 pandemic, we have seen an increase in TeleMedicine sites, in which you can access doctors and advice through the internet, faster, and easier.
DrHouse.com is one such example of TeleMedicine. This platform enables patients to contact doctors in just 15 minutes. From there, they can receive medical advice within seconds.
By taking into consideration a range of statistics, such as the number of beds per patient and hospitals, we've compiled a comprehensive list of the best and worst states for Hospital Care. Specifically, we've looked at the in-person hosptial experience. Let's dive into the results!
DATA STUDY: The Best And Worst States for Hospital Care
The Top 10 Best States for Hospital Care: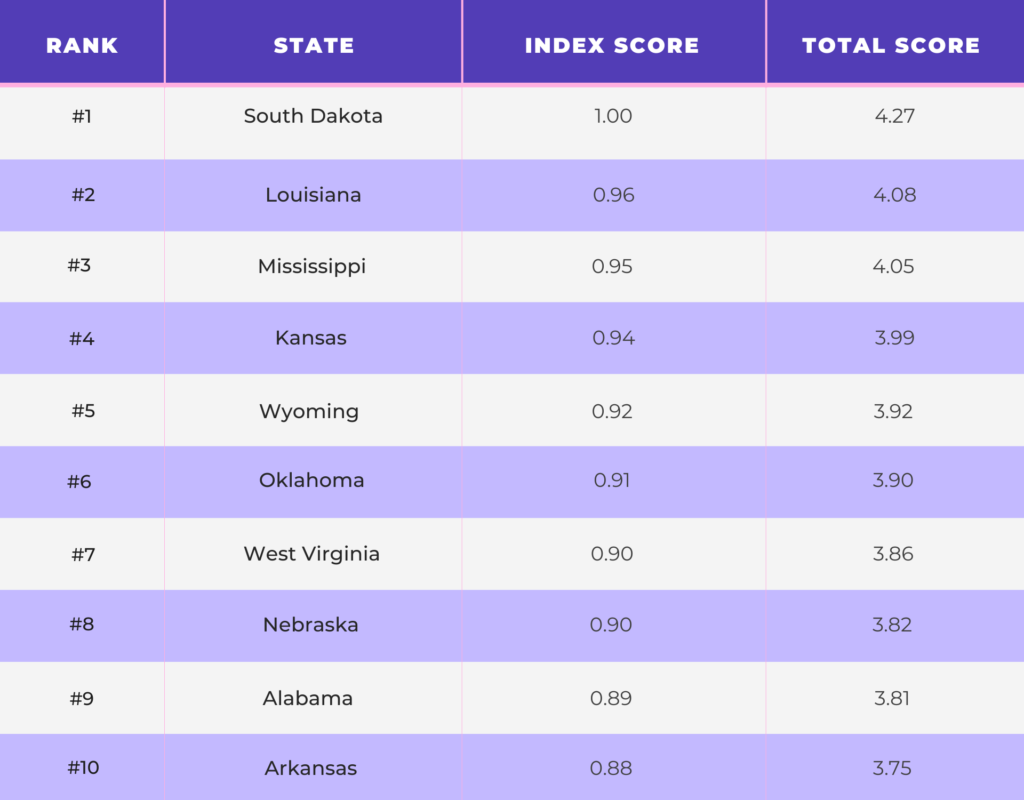 South Dakota – Index Score 1.00 (total score 4.27)
Louisiana – Index Score 0.96 (total score 4.08)
Mississippi – Index Score 0.95 (total score 4.05)
Kansas – Index Score 0.94 (total score 3.99)
Wyoming – Index Score 0.92 (total score 3.92)
Oklahoma – Index Score 0.91 (total score 3.90)
West Virginia – Index Score 0.90 (total score 3.86)
Nebraska – Index Score 0.90 (total score 3.82)
Alabama – Index Score 0.89 (total score 3.81)
Arkansas – Index Score 0.88 (total score 3.75)
As this list highlights, South Dakota is the best state for Hosptial Care. It's the clear winner of this list, with an impressive score of 4.27.
The main reason why South Dakora earned this coveted title was that it has a large number of staffed beds. Not to mention, it has a good rating from The Hospital Consumer Assessment of Healthcare Providers and Systems (HCAHPS).
South Dakota is joined by Louisiana and Mississippi to round out the top 3 of this list. So if you want to experience good medicare, these are the three best places in the U.S. for you!
On the lower positions of this list are states like Alabama and Arkansas. Generally, these states are good for Hospital Care. Yet, you should bear in mind that your experience will likely be inferior to the care that you would receive in South Dakota, Louisiana, Mississippi, or Kansas.
The Worst 10 states for Hosptial Care: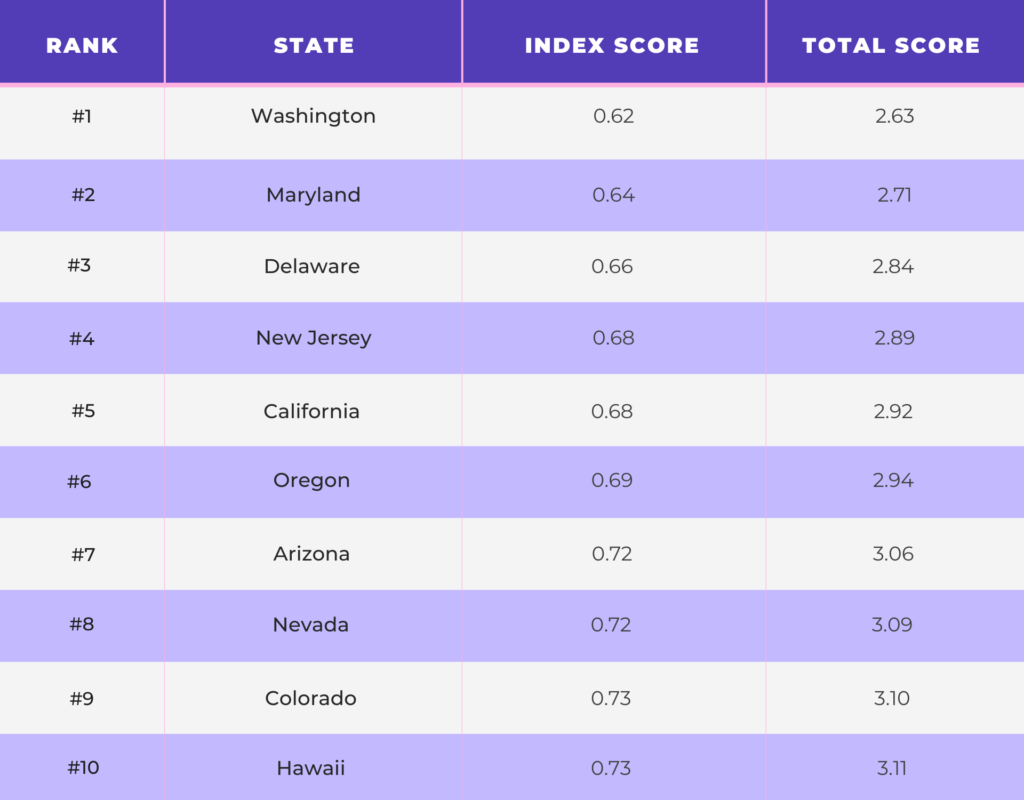 Washington – Index Score 0.62 (total score 2.63)
Maryland – Index Score 0.64 (total score 2.71)
Delaware – Index Score 0.66 (total score 2.84)
New Jersey – Index Score 0.68 (total score 2.89)
California – Index Score 0.68 (total score 2.92)
Oregon – Index Score 0.69 (total score 2.94)
Arizona – Index Score 0.72 (total score 3.06)
Nevada – Index Score 0.72 (total score 3.09)
Colorado – Index Score 0.73 (total score 3.10)
Hawaii – Index Score 0.73 (total score 3.11)
On the flip side of this list, these ten states ranked poorly on this index. Washington was at the very bottom of the list, with a pitiful score of just 2.63. To put this into perspective, the best state on the list, namely South Dakota, earned a massive score of 4.27.
The primary reason why Washington was at the bottom of the list was that it has a poor people per hospital index. With a massive population of roughly 7,901,429 people, Washington has only 60 hospitals. As a result, there simply are not enough hospitals in the area for this large population.
Combined with other factors, Washington deserved its spot on this list. It's worth noting that Washington was closely followed by Maryland, which likewise has a disappointing score.
Perhaps the area that Maryland performed worst in was the HCAHPS staff responsiveness. This highlights a serious issue in the healthcare of this state, whereby staff doesn't quickly respond to the needs of the patients.
The next lowest on this list was Delaware. The main issue for Delaware was that it has just 8 hospitals, despite having a population of more than 1 million.
Of these ten options, Hawaii fared best. As a result, you will probably have a finer experience than you would in the bottom 9 entries. Yet, it is still one of the worst states for Medicare.
How Did We Create This Ranking?
You might be wondering how this data was accumulated. After all, the ranking was not pulled out of thin air. Instead, several key factors were taken into consideration. This included:
People per hospital index: to determine this factor, we researched the population and number of hospitals. The more hospitals per person, the better.
People per bed index: as you can imagine, having staffed beds in a hospital is essential for providing good healthcare.
HCAHPS hospital rating index: This hospital survey is an essential metric for this study. The better the rating, the better the medical care is in a specific hospital.
HCAHPS hospital cleanliness score: To protect patients from picking up infections, hospitals need to be clean. As a result, this cleanliness survey was an essential part of the research.
For each of these categories, every state was given individual scores. These scores were then combined to calculate the positions of each state. The states with the highest scores were at the top of the list, while the states with the lowest scores were placed at the bottom.
This data was extracted from trustworthy sources, including The American Hospital Directory, HCAHPS, and World Population Review. As a result, this data is accurate and reliable.
How Can TeleMedicine Solve These Problems?
TeleMedicine platforms can solve a lot of the problems that currently plague healthcare systems in the U.S. For instance, patients can easily receive advice remotely, meaning that they don't have to visit overcrowded hospitals.
Not to mention, patients can directly talk to healthcare professionals through TeleMedicine systems like DrHouse.com. They can quickly and effectively receive potentially life-changing medical advice.
Final Thoughts
This fascinating data study presents some really interesting conclusions. Digital healthcare platforms can prevent some of the largest problems in the healthcare industry, such as a lack of staff and insufficient numbers of hospitals. With any luck, digital services will be rolled out to improve these Medicare problems!
Sources:
Content on the DrHouse website is written by our medical content team and reviewed by qualified MDs, PhDs, NPs, and PharmDs. We follow strict content creation guidelines to ensure accurate medical information. However, this content is for informational purposes only and not a substitute for professional medical advice, diagnosis, or treatment. For more information click here.

Always consult with your physician or other qualified health providers about medical concerns. Never disregard professional medical advice or delay seeking it based on what you read on this website.

If you are experiencing high fever (>103F/39.4C), shortness of breath, difficulty breathing, chest pain, heart palpitations, abnormal bruising, abnormal bleeding, extreme fatigue, dizziness, new weakness or paralysis, difficulty with speech, confusion, extreme pain in any body part, or inability to remain hydrated or keep down fluids or feel you may have any other life-threatening condition, please go to the emergency department or call 911 immediately.